THE ARRIVAL OF BJORN AGAIN
Bjorn Again was formed in Melbourne Australia in 1988 by John Tyrrell and Rod Stephen. The band performed its first show on 6th May 1989 and has now performed in over 120 countries worldwide. Bjorn Again are regarded as the most successful tribute act of all time.
Rod (left) and John (right) met in Melbourne in the mid 80s playing in covers and original bands. In 1988 they decided to brainstorm a new musical concept and one day Rod suggested an ABBA show. Auditions started in October 1988 and by January 1989 they had settled on a band lineup. After many rehearsals Bjorn Again performed its first show at The Tote Hotel in the inner Melbourne suburb of Collingwood with the very first lineup comprising Dorina Morelli as Frida, Kathy Riseborough as Agnetha, Peter Ryan as Benny, Gavin Charles as guitarist Stig, Rod as a bass-playing Bjorn and John as Ola on drums.The gig drew a full house, the crowd abba-solutely loved the show and the media writeup sensational. Bjorn Again had arrived.
From there demand for the band escalated and the band started touring non-stop around Australia and the world and continues strongly to this day. It also started a debate amongst the media as to the historic status and legacy of ABBA.
In 1991 Bjorn Again performed its first overseas shows, which was to Sweden of all places, with a very nervous band concerned about their 'Swenglish' accents. But all went well and while performing on a national TV show, Bjorn Ulvaeus sent in a telegram which BA's Bjorn read out live:
"The best of Luck! Anyone who looks like me ought to have a successful career!"
In 1992 the band performed its first shows in the UK and Europe causing a sensation wherever it played. In 1993 the band relocated to London and by 1997 there were 3 touring lineups. Bjorn Again went on to become an international entertainment phenomenon with many amazing highlights and stories. Today Rod manages the BA UK/Europe lineup from London, and John manages the Australasian lineup from Melbourne.
John and Rod had no idea the idea would take off and be so successful as it has, and are very proud of what the band has achieved. But they are mostly thrilled that ABBA have said nice things about the band, and when people say they love the show and had the best time.
CAREER HIGHLIGHTS
THE VERY FIRST SHOW – 1989
The Tote, Collingwood Melbourne – Saturday May 6th 1989
MEETING BENNY AND BJORN 1992
Stockholm November 1992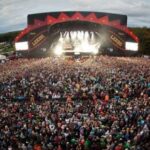 THE READING FESTIVAL 1992
Headliner Nirvana arranged for Bjorn Again to be added to the bill. August 1992.
THE SYDNEY OPERA HOUSE – 2007 and 2008
Bjorn Again performed 4 sellout shows in 2007 and 2008
SYDNEY TARONGA ZOO
The best setting for a concert in the world. In Feb 2018 Bjorn will play its 15th consecutive year there.
THE ROYAL ALBERT HALL LONDON
Bjorn Again have performed at this famous venue in 1993, 1994 and 1998.
ABBA played concerts there in 1997.
SPICE GIRLS – WEMBLEY STADIUM 1998
Special Guest Support to The Spice Girls 'SpiceWorld' Concert Wembley Stadium London 1998